Wet April
Snow is starting to fall on this cold, raw Monday in the area that borders Binghamton's downtown and East Side. The NYSEG Stadium has been spruced with new, mast-mounted signals. Top, view is looking north on Fayette Street; at right, looking east on Henry Street. Photos taken 7 April 2003.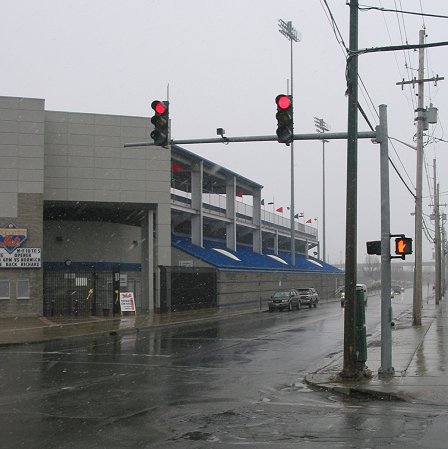 Henry and Fayette streets
One year ago, on 31 March 2002, we reported on a funny-looking pagoda signal that held court in the place where Binghamton plays baseball, NYSEG Stadium. A funny thing happened.
The signal is no more.
This installation is newsworthy, not only because it is, as of 7 April 2003, the newest signal in the city, but it is also one that uses signals bracketed on tubular masts. Gee, that may sound like progress. The signals are ATS units, and use the latest LED technology.