Downtown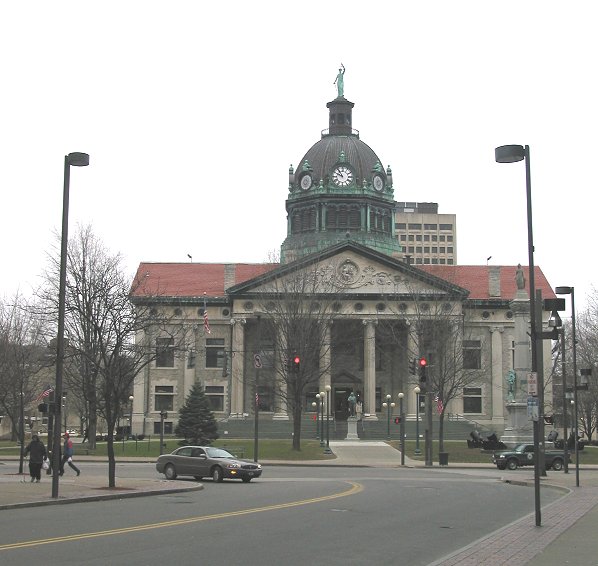 Court, Chenango and Exchange streets
Binghamton's dark brown signals, which delineate the business district on Court Street, date from 1981, when a major construction project resulted in the street's revamp.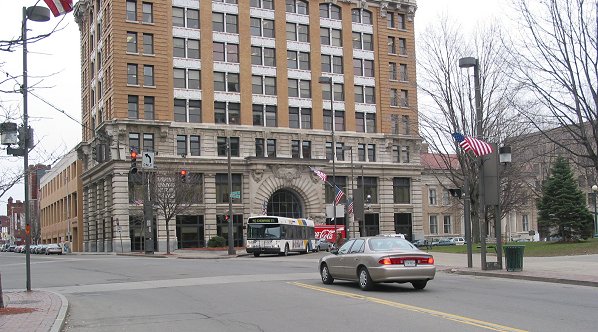 Another view of the intersection, looking east. Exchange Street, at right, was rerouted in 1981 to meet with Chenango Street to form a single intersection.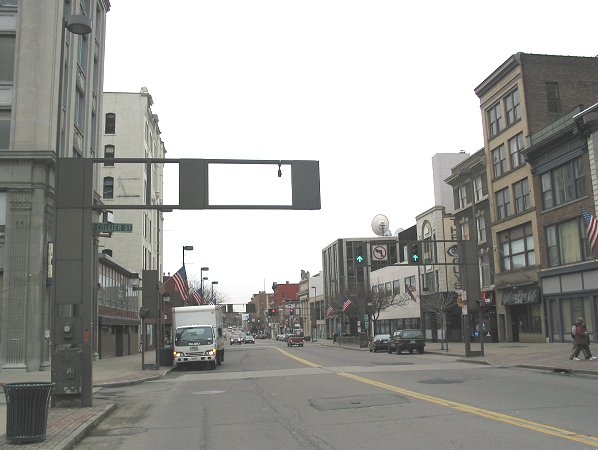 Court and Collier
Collier Street, at left, forms the western boundary of the County Courthouse grounds. When traffic entered downtown from the Vestal Parkway, it used to end up here; that changed around 1971, when it was rerouted on to State Street. Now, Collier Street is more of a side street marked by these pedestrian signals.
Slab sides
The "Parlor City" has traditionally followed the standards set by the New York State Department of Transportation. Signals have been usually green colored, though in 1981, the downtown signals installed on modular installations were dark brown colored.
Most of the signals did not originally have pedestrian signals; some were installed in 1985. In 2001, when the signal heads received red and green LEDs, the pedestrian signals were changed. Now, some are brown to match the signal installations, while others are black or dark green. The installations are showing their age after 22 years, four Presidents, three governors and three city mayors, not to mention rough weather conditions, but they serve as a street architecture theme for the city.